Chicago Bears And Buffalo Bills Headed Towards The Super Bowl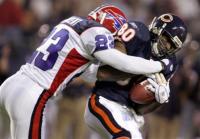 Undefeated Super Bowl Match Up?
The Chicago Bears and the Buffalo Bills came into the NFL season with many question marks, but after the first week of the year, they have answered all their questions.
The two teams are now heading towards a collision course in the Super Bowl. Even though there are still fifteen regular season games left, it does not appear that anything will stop the Bears and the Bills.
Their quarterback play was superior to all others on Sunday, and their defenses were soo dominating that experts are comparing them to the greatest defenses of all time.
On the other
side of the spectrum are the Indianapolis Colts and the San Diego Chargers. There is a strong possibility that neither team will win a game this season. Both teams look dreadful and it does seem like there is enough time to shake off a loss in the season's first game.
With fifteen weeks to go, all that needs to happen for the Bears and the Bills is they continue to play perfect football, get no injuries, and have no other team step up in their respective conferences.
The bulk of the season remains, but has become clear that Chicago and Buffalo are on their way to becoming two of the best teams of all time.
Disclaimer - The news reported on this website is satire, parody, or spoof.
Spread The Word
Related Articles
11 Responses to "Chicago Bears And Buffalo Bills Headed Towards The Super Bowl"