Joe Paterno To Get Sky Box Suite If Penn State Reaches Title Game
Published 11/3/2008

Unrated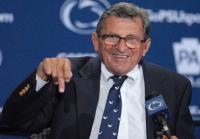 "I Am Still The Coach"
The Penn State Nittany Lions appear headed to an undefeated season. If they complete the perfect regular season, they will be in line to play in the BCS National Championship game.
Today, Nittany Lions head coach Joe Paterno received good news about that potential trip. If the Nittany Lions play in the title game, Paterno will be coaching in style. He will be watching, uh, I mean, coaching, the game in style.
Paterno will get a sky box suite if the team reaches the title game. If Penn State finishes
undefeated but does not make the title game, then Paterno will have to coach from the coaching booth.
"I think it's great that their going to take care of Joe Pa. He is a legend, and if he can't coach anymore, he should be able to watch the game in luxury," said Billy Stewart, an avid Penn State fan.
While Paterno is technically still the Nittany Lions coach, he rarely coaches from the sideline, raising speculation that he isn't coaching at all. The university is playing along, however, and still lists Paterno as the teams head coach.
Disclaimer - The news reported on this website is satire, parody, or spoof.
Spread The Word
Comments