Tony Stewart To Join The Washington Redskins Next Season
Published 07/9/2008

Unrated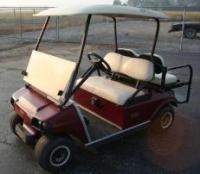 Tony Stewart's New Ride
Tony Stewart is parting ways with racing team owner Joe Gibbs after the two decided they could no longer work together. Stewart has already become vindictive by announcing he is planning to play for the Washington Redskins next season.
Stewart has never played professional football but is certain he can make the switch from NASCAR to the NFL. He has not yet declared what position he will be playing with the Redskins.
Stewart and Gibbs were in a heated argument over the weekend when Gibbs told Stewart his services will no longer be needed on the racing team. Stewart then proceeded to tell Gibbs that he was an awful football coach, and that he would extract revenge through the team that Gibbs loved.
Stewart
immediately contacted the Redskins and owner Daniel Snyder. Snyder signed Stewart to a contract today. He may not ever see the actual playing field, however.
It has been reported that he will be the man behind the wheel of one of the practice carts at the Redskins facilities. During his tryouts, Stewart clocked the fastest time from the field to the locker room. He made the entire run in just over four and a half seconds.
Stewart was just happy after the run to be in uniform for Washington. "It is an honor to be a Redskin. Joe always told me story's of being a Redskin, and now I can see for myself. I will do anything possible to help this team win a championship. If that means driving the practice cart, then so be it," said Stewart.
Disclaimer - The news reported on this website is satire, parody, or spoof.
Spread The Word
Comments