Miami Has The Dolphins, The Greatest Football Team...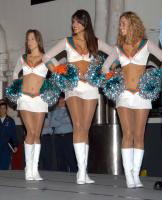 Dolphins Headed To Super Bowl
Miami has the Dolphins, the greatest football team. They take the ball, from goal to goal, like no one's ever seen. Their in the air, their on the ground, their always in control. And when you say Miami, you're talking Super Bowl.
That is the theme song for the Miami Dolphins. actually, it is the theme song for the old Houston Oilers, but the Dolphins stole it successfully. We here at SS have been touting a Buffalo Bills appearance in the Super Bowl. We don't care that there is still three quarters of the season left, we simply pick the team every week we think will win the whole thing.
And this week's team is NOT the Buffalo Bills. It is the Miami Dolphins. Anyone who watched them dismantle the New England Patriots a week and a half ago,
surely would agree. This is a team that is unstoppable.
Ronny Brown is the Ladainian Tomlinson of this season. he will eclipse all rushing records and shatter the record for passing touchdowns by a running back.
There has been rumors out of Dolphin camp that Brown may soon be THE starting quarterback in addition to be the team's starting tailback. This is great new2s for those of us who believe they are going to the Super Bowl.
If anyone is to stop them, it will be the Bills, and when these two great teams meet blood will be shed and the hitting will be ferocious. A battle of these two titans has never been seen before, nor will it ever be seen again.
Right now, the edge goes to the 'Phins, but tune in next week, that could all change with one devastating defeat on Sunday.
Disclaimer - The news reported on this website is satire, parody, or spoof.
Spread The Word
1 Response to "Miami Has The Dolphins, The Greatest Football Team..."