With USC And Ohio State Gone, Who's Left For Title Game?
Published 09/26/2008

Unrated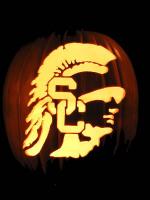 Media Darling Gone
Now that both USC and Ohio State have had crushing defeats, who is left to play in the National Championship game? Can the game even survive without the two teams that many predicted would be playing for the title before the season began.
Once again, the importance of the preseason polls were on display Thursday night when Oregon State disposed of supposedly one of the best teams that Pete Carroll has ever had at USC. Wow, the best team ever, and they lose a game in the first quarter of the season.
Now that these two early season favorites are done, it is time for the press to jump on the bandwagon of a second tier team. A team who would have had no chance if the title game was picked only on preseason polls.
A team such as , oh, I don't know, maybe the defending champion LSU Tigers.
The Tigers beat Auburn last week and have not lost since winning the national title last year. That is no reason, however, to put them above the mighty Trojans and Buckeyes in the preseason polls.
How about Florida, they also survived two early season tests, but they could not possibly play with the Trojans high powered NFL style offense, or the Buckeyes defense which was thought to be as good as any the Ravens and Ray Lewis have put together.
So now, after just four measly weeks, we are left to ponder who will fill the gap at the top of the rankings with two unbeatables both defeated. Here's an idea, let the season play out before anointing any team the best at anything.
Disclaimer - The news reported on this website is satire, parody, or spoof.
Spread The Word
Comments