Don't We All Feel Soo Sorry For The Yankees?
Published 09/24/2008

Unrated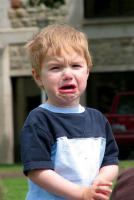 What Happened?
The New York Yankees are not going to the Major League Baseball playoffs this year. That fact is one that have many Americans wondering what really is going in the United States.
It is one thing when the economy crumbles and the war in Iraq seems to have been going on for thirty years, but the Yankees not making the playoffs, that signals something is wrong with our country.
How cruel of a joke is it that the last game in Yankee Stadium was rendered meaningless. These are the Yankees. They are supposed to win. This country was not built for little teams like the Tampa Bay Rays to win the American League East.
The Rays don't have A-Rod. They don't have Jeter, and Posada, Abreu, and Giambi. Damn it the Yankees have the supposed best players in
the game, doesn't that mean anything anymore?
I can't control my eyes from swelling up just of thought of another team playing a night game in the playoffs. What will the networks do with no Yankee game to put in prime time?
And how about the sponsors? They should get a portion of their money back. They should not have to pay millions of dollars to promote a post season with no Yankees. The United States is in trouble, big trouble.
Hank Steinbrenner will talk of change now, but deep down inside he has to be hurting just like the rest of us. It was him, after all, that vetoed the trade of Johan Santana to the Yanks.
That trade that could have saved America from having to watch all these hungry teams playing what is rightfully the property of the Yankees. The World Series title.
Disclaimer - The news reported on this website is satire, parody, or spoof.
Spread The Word
Comments