Kobe Bryant Wants Trade To Boston Celtics Before Finals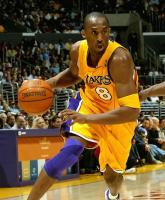 Kobe Bryant
Kobe Bryant has come a long way as a leader this season. Now, with his team on the verge of their first championship since Shaq carried Kobe Bryant to a title, Bryant has reiterated his request from last summer to be traded.
Bryant has cited the fact that the Lakers post game food in the locker room has been racially inspired. The Lakers have denied the claim, and say that its not their fault that fried chicken and watermelon was the food of choice.
Bryant insists that if there were more white guys on the team like himself, they would serve steak and lobster. Bryant blames management for surrounding him with too many black basketball players.
"When I wasn't traded
in the off season, I was motivated to win another title in Los Angeles, but now that I see all the organization is serving after games is fried chicken and watermelon, I want to go where there are more white guys like me," said Bryant, just three days before his team plays for a championship.
Members of the Celtics said they would welcome a trade at this point in the season, even if it would mean trading away some of their white teammates. "I would accept a trade for Kobe Bryant, even if we have to give up our one white guy. Our white guy for their white guy, seems like a fair trade to me," said Kevin Garnett.
The Lakers have said they will not entertain trade offers until after the first two games of the championship series.
Disclaimer - The news reported on this website is satire, parody, or spoof.
Spread The Word
Comments