Cowboys Change Their Name To Dallas Numero Unos
Published 09/5/2008

Unrated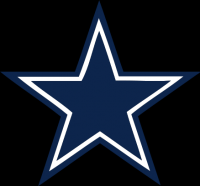 Numero Unos
The Dallas Cowboys have been extremely impressed with the attention that Chad Ocho Cinco has received since changing his name from Johnson. In order to get some of that attention themselves, they too have decided to change their name.
Jerry Jones, the Cowboys owner, has announced that he will be changing their team name to the Dallas Numero Unos beginning with this weekends opener. The league has been scrambling to change merchandise before the weekend.
"This is a proud day in Numero Uno history," said Jones, "we always
considered ourselves the model franchise in the NFL. Now people can be reminded of that every time they hear our name."
The name change thing has been catching on not only in the NFL, but it also has spread to television. The peacock network has announced that they are changing their name from NBC to NBCDEFG.
In basketball, the shot clock will now be known as "The Timer", and in baseball, a home run now will be called a "Triple With An Extra Base". Ocho Cinco did not know what he has stared, but he will certainly be happy that he started something.
Disclaimer - The news reported on this website is satire, parody, or spoof.
Spread The Word
Comments