Florida Gators Schedule Pee Wee Team For Next Season's Opener
Published 08/30/2008

Unrated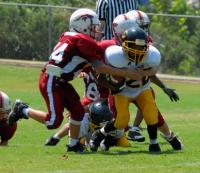 Gators Opponent Next Year
The Florida Gators have brought schedule padding to a new level on Friday. The Gators announced that they have signed on to play a Pee Wee football team from the Gainesville area in next season's opener.
The Pee Wee team came to the Gator athletic department looking for ways that they could raise money for uniforms and various other expenses that the league had to pay for. At first, Florida's AD agreed to donate some money.
Then, later in the week, he called back the president of the Pee Wee league and offered another solution. He told them that road teams receive money for playing the Gators in the Swamp, and he asked if they had a team in the league that would be interested.
The president said there was one team in the league that went undefeated last year, and that he was sure
they would agree to be the leagues represented.
After checking with the teams manager, the president of the league returned to the Florida campus and signed the contract to open next season against the Gators. The Pee Wee team was thrilled to hear the news.
"The team is looking forward to the challenge and has already began training. Members of the team have been instructed that they are to eat an extra peanut butter and jelly sandwich with lunch every day. They also must have an extra period of recess in school for the next year so they can practice for the Gators," said team manager Brian Lumpwich.
The Gators are also excited about the game. Their AD was looking for someone easier than FAMU to play next year. he cited Michigan's loss last year in their opener as the reason they did not want to take that chance against a division II team.
Disclaimer - The news reported on this website is satire, parody, or spoof.
Spread The Word
Comments