Tom Glavine Out For Season After Thirty Three MPH Pitch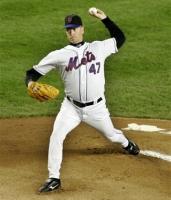 Season Over
Tom Glavine has made a career out of working the corners of the plate. It turns out, however, that it does not matter how good your control is when your fastball is only thirty three miles per hour.
Glavine announced on Saturday that his season is over. His reasoning for shutting it down was simple, his fastball was no longer a fastball, it was a change up. There is nothing Glavine could do but face reality.
"The reality is that there are kids currently in the Little League World Series that throw harder than me these days. I can't continue to go out there and cost teams a shot at the Worlds series," said Glavine.
He
was referring to last year when he was solely responsible for completing the New York Mets collapse by throwing the worst game of his career on the last day of the season.
It has been reported in recent months that Glavine could not even get his children4n out in the back yard anymore. The final straw for Glavine was when his wife took him deep in a charity baseball game.
"I have to thank the Lord that Tom has been able to provide us with a great life thanks to his left arm, but the truth of the matter is he can probably throw harder with his right arm these days than his left," said his wife after the historic home run that apparently has ended Glavine's career.
Disclaimer - The news reported on this website is satire, parody, or spoof.
Spread The Word
Comments