Jeter Out Of Lineup After Injuring Foot Kicking A-Rod In The A**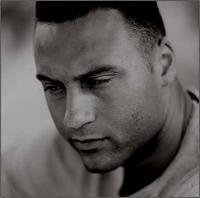 "Why Did I Kick Him"
Derek Jeter was out of the New York Yankees lineup on Wednesday night and there was a good reason according to his manager. Jeter, apparently so fed up with the self absorbed Alex Rodriguez, kicked A-Rod in the ass.
The kick was a good thing for the Yankees who needed someone to wake up A-Rod, but it comes at a difficult time for the team. They are struggling to keep their post season hopes alive.
Jeter reportedly was upset with A-Rod for putting too much gel in his hair after the game on Tuesday. He approached Rodriguez and explained that here in New York, players do not use that much gel in their hair.
Rodriguez proceeded to blow
off Jeter, and when he turned around to walk away, Jeter took his foot and kicked Rodriguez in the ass.
He did not realize at the time that A-Rod and his chiseled body was going to cause injury if inappropriately struck. "I just laughed, I mean, look at him and look at me. Do you really think that scrawny dude was going to hurt my perfect body?," said Rodriguez when asked about the situation.
Jeter declined to comment before Wednesday's game, only saying that his foot was sore and kicking A-Rod was not the smartest thing to do in the middle of a pennant race. Someone failed to tell Jeter, however, that the Yankees are not actually in a pennant race in anyone's minds other than their own.
Disclaimer - The news reported on this website is satire, parody, or spoof.
Spread The Word
Comments