Favre Shocked At News Conference, Thought Agent Said Mets
Published 08/8/2008

Unrated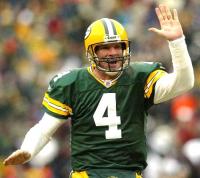 New York Jets!!
Brett Favre was introduced to the New York media yesterday, and he was a bit confused when he showed up for the press conference. Favre agreed to the trade to send him away from the Packers, but he claims he was confused as to which team he was joining.
Originally, Favre said in the news conference, he thought he was being traded to the New York Mets. He told reporters that his agent informed him he would be joining the Mets.
The agent claims that Favre misheard what he said when he told Favre he was traded to
the Jets. Either way, Favre is now a member of the Jets, and he can now ponder what could have been in Queens.
"I know they needed relief help, and I figured it was a good fit for me. My arm is still strong and I could have definitely given them some innings out of the bullpen," said Favre when he was introduced as a Jet.
Members of the Mets were also discouraged by the news that Favre would be playing for Gang Green. "The way our bullpen has performed, we could have used anyone at this point. Even a guy from Green Bay," said manager Jerry Manuel.
Disclaimer - The news reported on this website is satire, parody, or spoof.
Spread The Word
Comments