Amazingly Woods Leads Again In Major He Is Not Playing
Published 08/8/2008

Unrated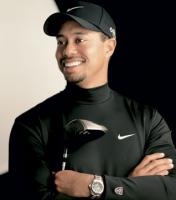 "I'm Still Unbeatable"
Tiger Woods may be on the shelf with an injury, but that is not stopping him from still setting records. After winning the British Open without even playing at the course, Woods has once again put himself in position to win another major.
Woods has a three stroke lead after the first day of the PGA Championship. Woods, dressed in a red pair of pajamas played brilliantly from the couch on Thursday. He now will try and hold the lead in day two.
After he was hurt at the U.S. Open, Woods applied for and received a special pass from the PGA. He will be allowed to compete in all majors using the PlayStation 3 format. He has already won the British,
and now he has his eye on the PGA title.
"It makes sense that I would be leading," said Woods from one of his twelve houses. "Nobody can beat me when I'm there live, and certainly nobody has a chance when I can play from my living room. It is still a long tournament, however, so we'll see how my thumbs hold up over the weekend."
While Woods was dominating, other on the course struggled. Phil Mickelson shot a three over seventy three on the tournaments first day. He blamed Woods not being around for his poor play. "When Tiger's out here, he takes a lot of pressure off the rest of us. With him not here, people follow me around, and frankly, I'm not good enough to be followed around."
Disclaimer - The news reported on this website is satire, parody, or spoof.
Spread The Word
Comments