Manny Ramirez Wants To Be Traded To The Knicks
Published 07/31/2008

Unrated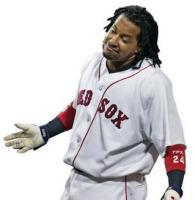 Why Not Hoops?
Manny Ramirez has always been a bit of a wacky character, but his latest demand is way out of left field. Ramirez has asked the Boston Red Sox to begin negotiations with the New York Knicks involving a trade of the star outfielder.
It has become known in recent days that Ramirez wanted to leave the Sox, but up until now everyone believed it would just be to another baseball team. That is not the case, however, after he told the Red Sox that he wanted to leave the league all together.
"My time in baseball is done. I have dealt with the bad things in this game for long enough. It is time for me to move on to basketball," said Ramirez in a prepared statement. So why the Knicks, Manny?
"I like
New York. I am from New York, and I don't want to play for the Nets, who would? So the only other choice is the Knicks," he said.
Ramirez created a stir earlier in the week when he was clocked at almost six seconds in running from home to first. He claims that he always runs at that speed, but usually the ball is out of the park after he hits it so he does not have to run fast.
Boston has become increasingly angry with Ramirez. Just yesterday, manager Terry Francona came out and said, "We are becoming increasingly angry with Ramirez."
There is no word yet on whether the Knicks would be interested in Ramirez, but judging by the talent on their team the past few years, they would probably be interested in anyone not currently on their roster.
Disclaimer - The news reported on this website is satire, parody, or spoof.
Spread The Word
Comments