Jimmie Johnson Wins Allstate 400, Returns To Coaching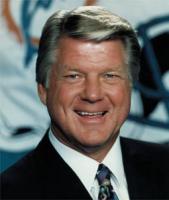 Coaching Again?
Jimmie Johnson won at the Indianapolis Speedway on Sunday. The big news, however, came after the race when Johnson announced that he was once again going back into coaching.
Johnson retired from the NFL after coaching a few seasons with the Miami Dolphins. In the time after he retired, he reinvented himself as a top of the line NASCAR driver. Up until now he had not missed coaching.
"I found myself after the race thinking about my time on the sidelines. I figured now
that I have won at Indianapolis, I should go try and beat them on the field," said Johnson.
When asked what team he would coach, he indicated that his first choice would be the Tennessee Titans, but was still unsure. He then went back to celebrating his Allstate 400 victory.
There has been rumors that Johnson was looking to get back into coaching. He suggested as much after last week's race. Back then, he told a reporter, "This racing thing is for f*gs, I need to get back on the football field," he said.
Disclaimer - The news reported on this website is satire, parody, or spoof.
Spread The Word
Comments