Several Mets Cry After Taking Over First Place In NL East
Published 07/25/2008

Unrated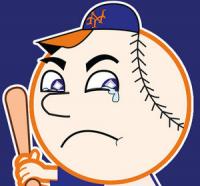 Go Away Big Red Bully!!
The New York Mets were backed into a corner they do not like being in after Thursday afternoon's victory over the Philadelphia Phillies. That corner is first place in the National League East.
Several Mets had a hard time dealing with the pressures that come with first place after the game. Both Carlos Beltran and Jose Reyes appeared physically shaken after their win on Thursday.
Beltran was trying to hold back tears as he spoke to reporters. "I can't believe we are back in first place. I don't want to be in this position. It is too much pressure, and what happens if we blow it again like last year," sobbed Beltran.
Over in the other corner of the locker room, Reyes was putting a similar spin on the situation. "They're (Phillies) gonna get us. Please don't let them catch us again Daddy," Reyes
was saying as he shivered in fear.
The Phillies on the other hand were in a jovial mood after falling into second place. "I think they are gonna need barf bags in their locker room before tomorrow's game. I could see the fear in their eyes the minute they won today while they were shaking hands with each other," said Jimmy Rollins.
The historic collapse of last year has already landed David Wright and Billy Wagner in the Psychiatrists office this past off season. Now the Mets will have to face their fears head on through the remaining months. That is something they are not sure they can do.
"I just want to quit. I can't take the stress. Just don't let the big red monsters come looking for us again," said Carlos Delgado, on a cell phone call with his mother.
Only time will tell if the Mets will be able to overcome their fears and grow into men.
Disclaimer - The news reported on this website is satire, parody, or spoof.
Spread The Word
Comments