Dennis Rodman Eyeing Return To NBA After Recent Charity Game
Published 07/19/2008

Unrated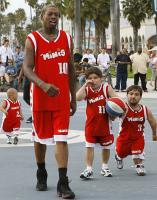 "I Can Still Play"
Dennis Rodman has been out of the NBA for a while now, but he still believes he can play in the league. Rodman recently said as much when he was playing in a charity event for DRNM (Dennis Rodman Needs Money).
The charity was set up for Rodman back when he finished his playing career. People around him knew that he was prone to spending money on drugs and hookers, so they set up the charity.
This past week, the charity held their annual basketball game to raise money for Rodman. They brought out an all star cast of ex-players to play in the event. Former greats Kareem Abdul Jabbar and Bill Walton played.
Rodman was so encouraged by the results of the game in
which he ran circles around the elder players, that he feels he can play again in the NBA. "I can play still. Did you see me out there today? I was awesome. I'm sure a team like the Grizzlies or the Bucks could use a guy like me," said Rodman.
NBA officials were not on hand to see the performance by Rodman, and many suggested they really could care less how he played. They know he would only be coming back for the money. They took that directly from Rodman when he said, "I would only be coming back for the money."
Whether or not an NBA team gives him a shot is yet to be determined. One thing is for sure, however, his charity raised enough money this past week for Rodman to go out on three binges over the next few days.
Disclaimer - The news reported on this website is satire, parody, or spoof.
Spread The Word
Comments