Brett Favre Looking To Get Away From Family With Return To NFL
Published 07/15/2008

Unrated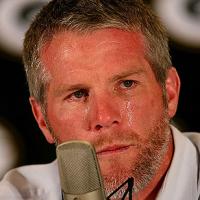 I Can't Take Them Anymore!!
After spending a couple of months at home with his family, Brett Favre has decided that he is ready to go back to the NFL. He claims the few months alone with his family made him see the light.
Favre said in a statement released on Tuesday that he would rather go out and get knocked around by 300 pound linebackers than have to spend another day with his family. The stress from his wife has been overwhelming this summer.
"At one point, she asked me to take out the garbage. That's when I knew I had to get back on the field. I mean, I'm Brett Favre, not a damn garbage man," said Favre. He insists that had he not have to do anything at home, he would have stayed retired.
"Absolutely, if I could just do what I wanted, I would not have wanted to come back. But all the nagging, and whining, man, I just couldn't
deal with it," he said. Favre said he would even be willing to go to the Miami Dolphins if it meant he would not have to stay at home.
There are several clauses in Favre's contract that claim if he was unhappy with his home life within six months of retiring, that he could come back to the league. The stipulation also was that if he applied for what the league calls, Family Nagging Reinstatement, the Packers would have to release him.
It will not be all good news if Favre decides to use that out clause in his contract. Part of the NFL rule states that if Favre goes into the FNR plan, he can only sign with teams that had less than five wins the previous season, but even that sounds appealing to Favre.
"As long as I get away from those maniacs at home, I don't care where I play. Hell, I won't even ask for money. I'll pay a team to get me out of this trauma," said Favre.
Disclaimer - The news reported on this website is satire, parody, or spoof.
Spread The Word
Comments