Scotty Nguyen Challenges Phil Ivey To Game Of Gold Fish At WSOP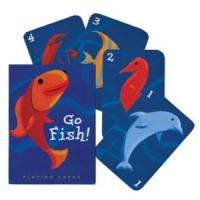 Next Big Card Game?
Scotty Nguyen, fresh off of his victory at the World Series of Poker, turned his attention to Phil Ivey and a game of Go Fish. Nguyen challenged Ivey while the two were playing in a heads up hand at the WSOP this past weekend.
"If you are such a great card player," Nguyen told Ivey while waiting for a call in a hand of No-Limit Hold'em, "then why don't you and me play a game of Go Fish, with the winner taking, say, ....$100,000."
Ivey was slow to react to Nguyens challenge, but after thinking about it, he accepted. The two will now meet in a battle that could determine the ultimate test of will for a card player. A game strictly based on luck, and no skill.
There are rumors
circulating that the battle could become a multi-game event. Some of the other games being tossed out there as possible challenges are Chutes and Ladders, Life, and Mr. Mouth, although the animal activists might have a problem with the latter.
If the event works, there has been talk that a full fledged tournament with amateurs and pros involving all the games mentioned. Daniel Negreanu claims he is a world class Yahtzee player, while Annie Duke is said to be at the top of the Uno world.
Poker has become the biggest played game in the world, but the pros have been talking as of late about finding another game. They claim there are now too many ignorant amateurs who think they are good card players in the poker world.
Disclaimer - The news reported on this website is satire, parody, or spoof.
Spread The Word
Comments