Derrick Rose Picked First In NBA Draft, Signs Contract, Then Retires
Published 06/26/2008

Unrated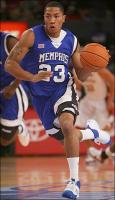 Draft Pick To GM?
Memphis guard Derrick Rose pulled off an unprecedented move on Thursday night. After being chosen as the #1 overall pick in the NBA draft, Rose signed his contract, then subsequently retired.
Rose was highly touted as the player who could bring the Bulls back from the dead. He was a hometown kid, who was supposed to bring excitement back into the arena in Chicago.
Shortly after being picked #1 overall on Thursday, however, Rose had a revelation. He wanted to get on with his life as a coach or a GM.
"Most players want to have a long career before they get into coaching and managing a team. Not me, I want to be different, I want to have my after basketball career before I begin playing," said Rose, in front of a stunned crowd at the draft.
Rose said
his hero growing up was Michael Jordan, not for what he did on the court, but for what he did after basketball. "MJ did it right, he got himself a job that he doesn't even have to be good at. He gets to sit in an office and make poor decisions that will forever ruin a franchise. That's the kind of impact I want to have," he said.
Fellow draftee Michael Beasley was said to have tried to talk Rose out of his decision. "I just told him that he should enjoy being the number one pick. Neither of us are any good, so it was just fun that we will be getting all this money for doing nothing. But he just kept saying that he lost interest in playing pro basketball already.
It is believed that Rose put in such hard work in the few minutes after he was picked, that he didn't think his body would hold up to any more pounding in the NBA.
Disclaimer - The news reported on this website is satire, parody, or spoof.
Spread The Word
Comments