Turkey Wins Popsicle Eating Contest, Advances in Euro 2008
Published 06/20/2008

Unrated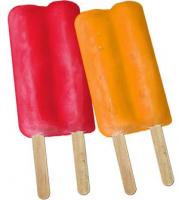 Turkey Advances In Euro 2008
Turkey has been one of the surprise teams at this year's Euro 2008. They have battled through some difficult matches, but Friday's epic match with Croatia will forever be known as the Popsicle game.
Representatives from both Croatia and Turkey got together before the start of Friday's Euro 2008 quarter-finals match. The goal was to find an alternative way to end a tie game other than penalty kicks.
A representative from Denmark suggested that since both teams would most likely be exhausted after regulation and overtime, the game should come down to a Popsicle eating contest.
Both teams agreed and then went out and battled for hours. Neither team budged in regulation and it was on to overtime. The overtime did not settle things and that brought the teams to sudden death. The Popsicle
Eating Contest.
Croatia was off to a quick start with their first two participants gobbling up their Popsicles. Turkey quickly answered both with two devourings of their own. The third and forth eaters for both teams put down the Popsicles with no problem, leaving only two participants left.
The Croatia captain went first. He was just about finished with his Popsicle when it started running down his hand. In an effort to clean his hand he tried to lick the dripping juice, but he accidentally touched the Popsicle to his face and it fell out of his grasp.
That left Turkey's captain to try and win the match. He had little trouble, eating the Popsicle in less than five seconds. Upon finishing, he threw the stick into the air and was mobbed by teammates.
Turkey will now move on in the Euro 2008 to face one of the favorites, Germany in the semi-finals.
Disclaimer - The news reported on this website is satire, parody, or spoof.
Spread The Word
Comments