2008 US Open Golf Preview: Woods' Remarks Misinterpreted As Racial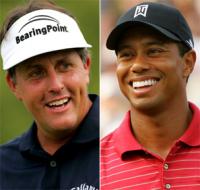 Ignorant To Racial Comments?
While the US Open golf tournament officials thought they were making improvements to the first two rounds of their golf tournament, Tiger Woods has created a controversy in the media with a quote from Wednesday afternoon.

Woods was speaking at a benefit for Kids in Distress when the issue of playing alongside Mickelson came up. He answered the question in the only way he knew how. Turns out his words may have been misrepresented by the media.

"I like playing with Phil. He brings out the best in me. Phil and I have played many rounds of golf together and I enjoy the competition. I have nothing negative to say about Phil," was his response to the question. That response has drawn an uproar from analysts across the country.

"I don't know why Tiger would say that about Phil. I think it is just because Phil is white. Woods never would have made those racist remarks if Mickelson was African American," said fellow golfer
Bernhard Langer.
The fallout from the comments by Woods could be devastating. Nike has already been in contact with Woods asking for a retraction and apology, but Woods refused. The refusal has caused Nike to pull all endorsement deals with Woods.
"Imagine, a man of his stature in this day and age not even acknowledging that he made racial comments. The least we would expect is for Tiger to admit his faults. This is a sad day at Nike," said President, Bill Trompbley.
While the rest of the country is in an uproar, Mickelson chose to take the high road over the comments. "Tiger and I are close, and I don't see what he said that was wrong. All he did was praise me," said Mickelson.
Various publications, including Sports Illustrated have blamed Mickelson for allowing Woods to get away with his obviously blatant attempt to degrade the white community.
Woods and Mickelson were seen enjoying a practice round later in the day, apparently oblivious to the media frenzy that they had created.
Disclaimer - The news reported on this website is satire, parody, or spoof.
Spread The Word
Comments