Ex-NBA Referee Donaghy Caught Swallowing Whistle In Prison Game
Published 06/11/2008

Unrated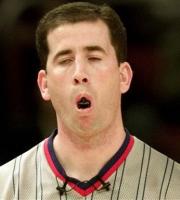 Swallowing Whistle In Prison
Ex-NBA referee Tim Donaghy has already been shamed by the American public. Betting on the games they love and hold sacred as a referee is a no-no in the public's eye. What Donaghy did this week in prison is even more shameful.
Donaghy was refereeing a pick up game at the prison where he is serving time for his illegal activity. Donaghy allegedly manipulated the results of the pick up game in order to receive cigarettes from one of the players on the winning team.
Maurice Jenkins felt something was wrong when he continually drove to the hole but was called for offensive fouls. After his team lost, Jenkins was distraught, but returned to his cell with no confrontations. It was upon reaching his cell that he saw the real deal.
"I'm walkin
back to my cell, right, and, get this. My man Johnny is hooking whitey (Donaghy) up with five menthol cigarettes. I was like, what the f**k! I went right to the warden and reported that fool," said Jenkins.
Donaghy claims he did nothing wrong. He says he just had a friendly cigarette bet that Johnny's team would win the game. "They won the game, so I collected my cigarettes. That's the way things go in here," said Donaghy.
Jenkins had a warning for Donaghy in the future. "That sh*t might work out there in the real world, but in here, a fool will get his ass clipped for that kind of sh*t. He better steer clear of my ass is the shower."
When asked about Jenkins comments, Donaghy said, "Jenky (Jenkins) can act as tough as he wants, but truth be told, I'm not turning my back on any of these guys in the shower."
Disclaimer - The news reported on this website is satire, parody, or spoof.
Spread The Word
Comments