Big Brown Wins Triple Crown, Trainer Thanks Elmer's For Fixing Hoof
Published 06/7/2008

Unrated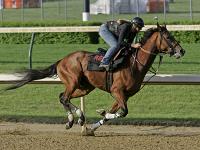 Thank You Elmer's
Big Brown completed one of the most dominating runs through the triple crown races on Saturday by winning the Belmont Stakes. his trainers were quick to thank the one group responsible for his win at the Belmont.
After the race was complete and ABC had there first chance to interview the trainer for Big Brown, the comments he made was geared towards thanking Elmer's Glue. The glue company did a tremendous job in gluing together Big Brown's hoof on Friday.
While the trainer spoke, Big Brown was busy running laps around the track he had just won on. The trainer said the laps were a side effect of the immense amount of drugs the horse was shot with before the race.
Elmer's
Glue has signed the horse to a lucrative endorsement deal. "Big Brown could not have won that race without us and the tremendous amount of drugs he was shot up with. But for our part in the victory, we feel very honored. we are offering Big Brown his pick of any horse to **ck on our owner's farm, and also a lifetime supply of our famously white glue," said Elmer's spokesman, Ban Toguthur.
While Big Brown completed his historic run, it is his owner who will reap the benefits. Already, he has gotten million dollar offers to have Big Brown mate together with other horses. One of the biggest offers was the parents of Roseanne Barr. They told Big Brown's owner that together, the two horses could make a champion for the ages.
Disclaimer - The news reported on this website is satire, parody, or spoof.
Spread The Word
Comments