Boston Celtics Win Game One With Help From Big Brown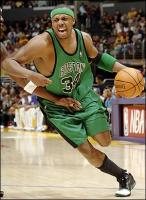 Big Brown Carries Celtics
The Boston Celtics just completed their victory in game one of the NBA finals, and before they even went back to their locker room, the players were already praising the efforts of Big Brown.
"Boy, that Big Brown played a hell of a game out there tonight. That horse just ran up and down the court, and couldn't miss a shot. He was in some zone," said Paul Pierce.
Big Brown was lighting it up from all areas of the court. When the game was over, Big Brown finished with 124 points, and 200 rebounds. Afterwards, reporters asked Kevin Garnett how he got the nickname of Big Brown.
"That's easy whitey. I'm big, and I'm brown. Even if that horse wins the triple crown, he will never be the real Big Brown. After all, that horse isn't even brown, he's more caramel colored," said Garnett.
The Celtics slashed through
the Lakers, and when asked why it was so easy, Ray Allen had the most logical of answers. "They played a couple of white guys tonight for an extended period of time. We just stayed with all the brothers, and that, naturally, gave us a huge advantage."
Luke Walton took exception to the comment, but before he could even counter with words of his own, he was settled down by several of his teammates. After a while, Kobe Bryant and Lamar Odom, two of the team leaders, convinced Walton that Allen's comments were correct.
Bryant was overheard telling Walton, "It's not something to get upset about. It's the truth of basketball, and tonight, they just had more black players on the court then us. We'll make the necessary adjustments for game two."
When pushed by a reporter as to what he meant, Bryant replied, "You'll get my point next game when you seem our colorful line up."
Disclaimer - The news reported on this website is satire, parody, or spoof.
Spread The Word
Comments