Celtics Trading In Shamrock Logo For Pickles In NBA Finals
Published 06/5/2008

Unrated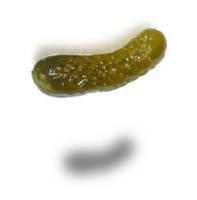 Celtics New Logo
The Boston Celtics have made a drastic move on the day of game one of their NBA finals match up with the Los Angeles Lakers. They have ditched their green shamrocks for dill pickles.
The move was a last minute decision and has sent many fans of the team scurrying to the supermarket. The pickles represent toughness, according to a team spokesman. All of the shamrocks have been removed from the Celtics home arena, and have been replaced by vibrant pickles.
"The pickle stands for honor, and crunch. When a person bites into a pickle, they know their eating a pickle. That's the reputation we want here in Boston. When teams come in to play the Celtics, we want them to know what they're in for," said Larry
Bird, a longtime pickle eater and Celtic great.
The Lakers, on the surface, appear unfazed by the pickle move, even suggesting that this could serve as a distraction for the home team. "It's tough when you change your whole base. I know I would not feel comfortable if Laker ownership suddenly changed out theme to strawberry shortcake," said Kobe Bryant.
Showing the confidence he has exuded all year, Bryant flashed a smile and said, "If they think the pickles will inspire them, good for them. The pickle can't play defense against me though, so we'll see what happens.
Game one is set for tonight in Boston. The Celtics have a special ceremony planned for pregame with a history of pickles showing on the big screen after player introductions.
Disclaimer - The news reported on this website is satire, parody, or spoof.
Spread The Word
Comments