John Smoltz In Need Of Personal Injury Attorney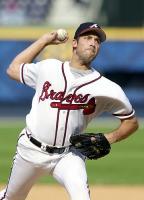 Injury Attorney Needed
John Smoltz came back to the Braves bullpen earlier this week and tried to convince reporters that he was going to be "nasty" with his new arm angles. Now, two days later, Smoltz is in need of a personal injury attorney for the problems he has with his right arm.
Smoltz is claiming that the medical experts that were working with him on his arm injury, convinced him he would be "nasty" when he came back. On Monday, he returned to the Braves closer role only to give up the lead late in the game.
Afterwards, Smoltz expressed his desire for a personal injury attorney, claiming, "I went to the mound, and I knew right in warm ups that the doctors were wrong. My pitches did not feel "nasty",
they felt flat, and hittable. It was right then that I knew that the doctors were conning me," said Smoltz.
A day later Smoltz said he talked to manager Bobby Cox about the lack of "nastiness" in his pitches. Cox assured him that if the doctors said the pitches will be "nasty", then they were "nasty". Smoltz disagreed and got into a shouting match with Cox. Eventually, Cox was thrown out of the locker room. It was the 751st time that Cox has been ejected from a locker room.
Smoltz left the showdown with Cox confused. He called ex-teammate David Justice, who immediately told Smoltz to go searching for a personal injury attorney. He did, and they are now suing Brave team doctors for lack of baseball knowledge in using the term, "nasty".
Disclaimer - The news reported on this website is satire, parody, or spoof.
Spread The Word
Comments