New York Yankees Sell Alex Rodriguez For $200 Billion
Published 06/4/2008

Unrated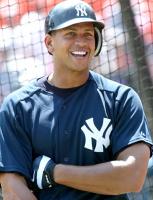 Sold
In a stunning and unprecedented move on Tuesday, the New York Yankees have sold all everything third baseman Alex Rodriguez to an art collector. The collector is said to have paid 200 billion for the purchase.
Originally, John Salmon called the Steinbrenners to inquire about buying the whole franchise. After talking to Hank Steinbrenner, Salmon was convinced that the only item worth anything on the team would be Alex Rodriguez.
After agreeing to the slae of Rodriguez, the two sides then got down to negotiations. Steinbrenner only agreed to
the $200 billion price after Salmon assured him that the Yankee jersey that Rodriguez wore would stay with the team.
It has been reported that Salmon will use Rodriguez as a piece of meat. He will make Rodriguez stand nude in the living room of Salmon and his partner, Bill Speedo.
Rodriguez could not be reached for comment on the sale, but his estranged agent Scott Boras had plenty to say as usual. "I have no doubt A-Rod will agree to this sale. Anything that will make him more money he will do, if that means standing in two gay guys living room naked, then so be it," said Boras.
Disclaimer - The news reported on this website is satire, parody, or spoof.
Spread The Word
Comments