Yankees Put Teixeira On The Trading Block After First Game
Published 04/7/2009

Unrated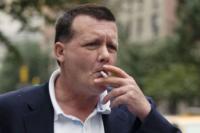 "What The F*ck?"
The New York Yankees are used to winning and when they do not win, usually somebody has to pay the price. That somebody this time around may be new slugger Mark Teixeira.
The Yankees lost their first game of the year on Monday, and afterwards a visibly upset Hank Steinbrenner went on one of his patented rants. He spoke of how the season has been such a disappointment, and how some players were not safe to stay in the Bronx.
"We brought Mark (Teixeira) in here so that our offense improved," said Steinbrenner at a news conference, "Did it look like our offense was freakin improved?? No it didn't, and now we may have to make some changes."
Pressed on what those changes may be
after his team fell to 0-1, Steinbrenner admitted it may have been a mistake to sign Teixeira in the off season. He then said that he would look for a possible trade.
During the interview, Steinbrenner also commented on the poor performance of C.C. Sabathia. When a reporter asked why Sabathia would not be put on the trading block, Steinbrenner shot back at the reporter, seemingly annoyed.
"Do you know anything about the economics of the game a**hole?? How easy do you think it is for us to just go and trade a guy that we overpaid by twenty million?? It's ridiculous, just plain ridiculous that we have sunk to this level."
The Yankees will now get a day off before they play their second game of the year on Wednesday in Baltimore.
Disclaimer - The news reported on this website is satire, parody, or spoof.
Spread The Word
Comments