Cutler's Agent Pushing For Contract Restructuring To Include Pacifier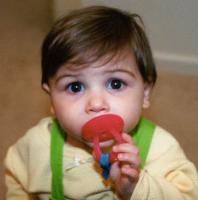 Jay Cutler's New Demand
The Denver Broncos have decided that they must trade their All Pro quarterback Jay Cutler, but before any deal can be made, Cutler's agent wants his clients contract to be restructured. The details of their demands were revealed on Tuesday evening.
First, and most importantly, agent Bus Cook is angling to have a clause put in the contract that would allow for an unlimited number of pacifiers to be delivered to Cutler's locker before every game. On the pacifiers, Cutler's number and first and last name must appear.
If the team that trades for Cutler agrees to this term, the rest should be easy. Cutler wants all teammates to bow down to him upon his entrance into the locker room. The team must allow Cutler fifteen minutes of shower time alone after each game before teammates can enter the shower
area, and the showers must be equipped with mirrored walls for Cutler to admire himself while cleaning.
The last of the demands could become a little tricky with the current structure of the salary cap in the NFL. Cutler wants to be paid $1 million for each letter in his first and last name. "I'm so important, and every letter in my name is crucial to my greatness, so I should get paid as such," said Cutler.
Cutler was recently seen in photos at a "I think I'm great, but I think I'm even greater" seminar. He was in the photo with healing Yankees superstar Alex Rodriguez.
The Broncos have not yet commented on the new demands of Cutler and his agent, but owner Pat Bowlen was overheard at the teams training facilities telling members of the organization that the pacifier request would be a small price to pay to get rid of the troubled quarterback.
Disclaimer - The news reported on this website is satire, parody, or spoof.
Spread The Word
1 Response to "Cutler's Agent Pushing For Contract Restructuring To Include Pacifier"