Romo Playing With Superman Complex
Published 10/17/2008

Unrated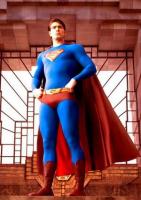 Tony Romo as "Superman"
All of the talk of Tony Romo being tough has apparently went to the Cowboy Quarterback's head. He has said he is going to play on Sunday despite a broken finger. Teammates have urged him to take some time off.
Romo feels like he has to show off in front of girlfriend Jessica Simpson. He was caught on tape telling Simpson what a tough guy he is. "A little broken finger can't keep me off the field, baby," he said.
While it is courageous for Romo to be playing, his family has said that this type of behavior goes back to his childhood. "tony always wanted
to be Superman. He had an infatuation with the super hero. Now, I guess he feels like he is Superman," said Romo's father.
Other Cowboys are privately calling Romo crazy, claiming they would jump at the chance of some time off. "If it was me, I'd be sitting if I got a damn splinter. A broken finger? Sh*t, that would put me out for a month,' said a player who did not want to be identified.
The Cowboys had a tough loss at Arizona last week, and are in desperate need of a win. That is precisely the time when Superman appears on the scene, and Romo is looking forward to playing that part.
Disclaimer - The news reported on this website is satire, parody, or spoof.
Spread The Word
Comments