Dog Pound On The Way To The Playoffs With Browns
Published 10/15/2008

Unrated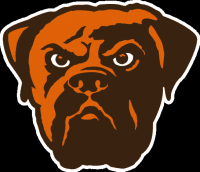 Heading To The Playoffs
The Cleveland Browns have suddenly thrown a monkey wrench in all playoff plans for the AFC. It now appears that after the Browns whooped up on the New York Giants on Monday night that Cleveland and the Dawg Pound are heading to the playoffs.
Forget the fact that their record is 2-3. Forget, also, that they have not been a very good team this season. They beat the defending Super Bowl Champions. That fact, coupled with some other facts from this past week of the NFL, equals the Browns going to the playoffs.
First off, Cleveland got major help from the Houston Texans. Up until they defeated the Dolphins on Sunday,
it looked like the final playoff spot was going to Miami. Now that they have lost, they are clearly headed towards the first pick in the draft.
Indianapolis also won big on Sunday. Not sure how that helps the Browns, but Cleveland beat the defending Super Bowl champions, so they somehow were helped by the Colts' win Sunday.
New Orleans also won this weekend. The Saints had the same expectations as the Browns from many analysts, so if the Saints won, then Cleveland must be heading in the right direction.
Did we mention that the Browns beat the defending Super Bowl champions? Enjoy it Cleveland, even if your run to the playoffs lasts only one more week.
Disclaimer - The news reported on this website is satire, parody, or spoof.
Spread The Word
Comments