USC And Ohio State Heading Back To Title Game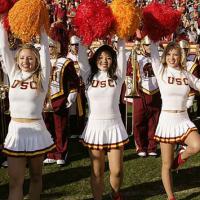 USC, Ohio State, Back Again
No matter what the college football season tries to do to keep down USC and Ohio State, they just keep coming back. They are the animal in the movies that simply cannot be killed.
Every fan outside of Southern California dreads the words I am about to say. USC and Ohio State are going back to the title game. They can not be kept down and they will not be denied.
USC already has destroyed Ohio State once, and they will get their chance again in Miami. The Trojans and Buckeyes will tell you it is their god given right to end up in the title game.
Even if they each lose three more times this year, the powers that be in college football
will make sure they meet in the national title game. If both teams dropped their football programs, somehow they would still play in the title game.
If the University of Southern California had an earthquake hit the campus, and it took three years to recover and reopen, the Trojans would be in the title game for those three years.
In Ohio, Jim Tressel could have a scandal hit his program that would send ten to twenty players to jail, and the remaining players would be playing in the title game.
It's time for the rest of the country to face the cold hard facts, we all are going to have to sit through another Trojan beating of the Buckeyes in this years national championship game.
Disclaimer - The news reported on this website is satire, parody, or spoof.
Spread The Word
Comments