Bill Cowher Almost Became New York Mets Manager
Published 10/8/2008

Unrated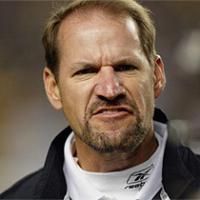 "Run The Damn Ball Out, Jose!"
Bill Cowher has not been a head coach for the past two seasons, but he almost became a manager. Even though the New York Mets have made Jerry Manuel their permanent manager after giving him a two year deal, Cowher was their first choice.
Yeah, it seems crazy that Cowher could have made the move to Major League Baseball from the NFL, but it also seems crazy that the Bush administration has put the nation in the jam it is in.
The Mets needed a leader who brought fire to their dugout. There is no leader who brought more fire than Cowher did during his time with the
Pittsburgh Steelers. He seems to also have a jaw that was made for chewing tobacco or sunflower seeds.
Cowher did not have to make the game day decisions with the Mets, he could leave that to his coaching staff. Where the Mets needed Cowher was behind the scenes. What do you suppose would have been the outcome had Jose Reyes not ran out a ground ball under Cowher?
The Mets made their choice in Manuel, but rumor has it that they were seriously considering Cowher until he turned them down. "We were seriously considering Bill Cowher to be our next manager until he turned us down," said General Manager Omar Minaya.
Disclaimer - The news reported on this website is satire, parody, or spoof.
Spread The Word
Comments